Sautéed Squash Medallions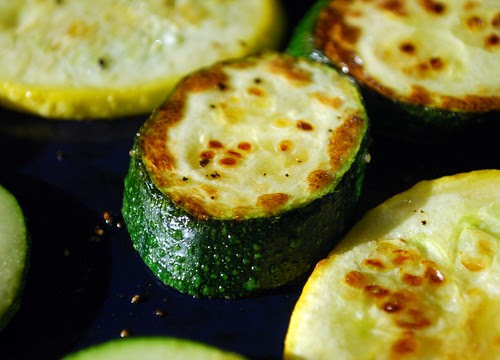 Sometimes the best way to cook fresh veggies is the simplest. Just some olive oil and salt and pepper bring out the sweet and juicy flavor of fresh summer squash. Also, caramelizing veggies as you cook them – just bringing out the slightest browned color in them – will draw out their amazing natural sweetness. These simple sautéed squash medallions go down like candy, the perfect accompaniment for a light, summery meal.
Sautéed Squash Medallions
1 tablespoon extra virgin olive oil
2 medium yellow crook-necked squash
1 medium zucchini squash
Salt and pepper to taste
Heat the olive oil in a heavy skillet over medium to medium-high heat. Meanwhile, slice up your squash and zucchini on the diagonal so that you have pretty round slices. Season with salt and pepper to taste. Place the slices in the pan in an even layer and allow them to brown for about 3-4 minutes. Turn the slices over and allow them to cook for another 2-3 minutes. Remove from the heat and serve immediately for a fresh and tasty veggie side dish.