Nanny's Apple Pie
Happy Thanksgiving, dear readers!!
Here in the United States, we are celebrating Thanksgiving, the harvest, our families, delicious food, and life in general. This recipe celebrates all of those, fully and simultaneously.
Again, I'm afraid I have been holding out on you, dear readers. Don't hold it against me – just know that I still have plenty of special family recipes up my sleeve… This is pretty much my mom's family's most prized, most loved, most famous and most delicious recipe. And here we are, over two years into this blogging adventure together, and I am finally handing over the goods!
You will love this recipe. If you don't, then you are pretty much crazy. Nanny's apple pie is the BEST. There is one small secret to this recipe. It's such a simple, innocent secret. It's not even a secret ingredient – it's a secret LACK of an ingredient… Nanny's apple pie has no cinnamon in it – nope, not even a pinch, not a twiddle, not a hint – none! The simple beauty of this secret is that it lets the apples speak for themselves in all their juicy, tangy, sweet glory. It's amazing how the ingredients we use to enhance flavors can actually end up masking them. Once you try this, you will never go back to the spice rack again.
Nanny's Apple Pie
Pastry:
2 cups flour
1 teaspoon baking powder
1/2 teaspoon salt
6 ounces shortening
2 ounces ice water (more or less)
Filling:
2 tablespoons flour
3 tablespoons sugar
6-7 McIntosh apples, peeled, cored and sliced
Preheat your oven to 375 degrees.
Sift together the dry ingredients for the pastry in a large bowl. Add the shortening and blend with a pastry blender until the consistency is like small peas. Add the ice water, a little bit at a time, and chop the mixture with a knife. Mix with your hands until the dough forms a ball. Divide in half. Roll one piece in flour, and roll out to about 1/4″ thick. Place this in a 9″ pie dish, making sure you leave a generous edge over the lip of the dish. Roll out the other piece and set aside.
For the filling mix the flour and sugar in a small dish. Sprinkle a little bit of the mixture on the bottom of the prepared pastry shell in the pie dish.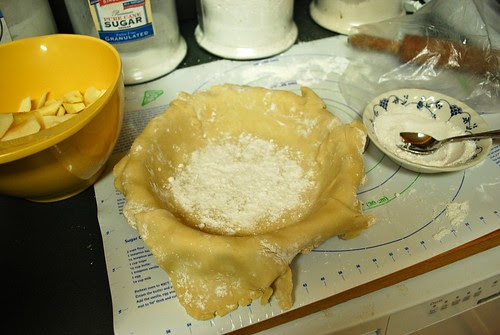 Add the apples into the pie dish. With half way full, sprinkle more of the sugar mixture over the apples.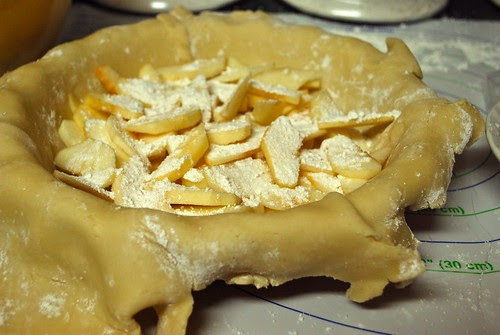 Sprinkle the rest of the mixture on top of all the apples.
Place the second piece of pastry over the apples. Tuck under and pinch to the bottom pastry all around the edge, decorating the edge if desired. Cut four slits on top.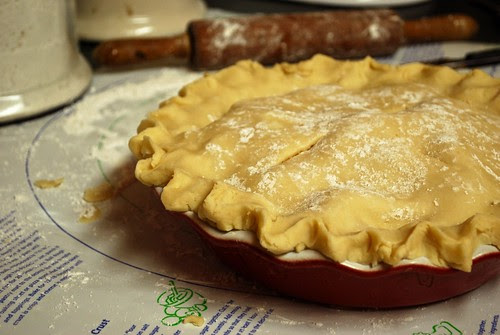 Bake the pie for 15 minutes at 375 degrees; then turn down to 350 and bake for 30 more minutes.
Allow pie to cool before serving. Top each piece with vanilla ice cream and enjoy!