Proud to be a Georgia peach
It's no mystery around here that I am a Georgia girl, through and through. One of the best things about being in my beautiful state at this time of year is PEACHES.
I can (and do?) eat fresh Georgia peaches morning, noon, and night when they are in season. I like them cut into juicy-tart chunks on top of my cereal in the morning, I like them sliced and peeled next to my sandwich at lunch time, I like them in my salsa with a cold drink in the afternoon, and I like them underneath a fluffy-moist, crispy-sweet biscuit crust after dinner throughout the summertime.
Throw in some blueberries if you must, but the peaches are the star of this dish! I made this one up on the fly – it's very versatile – you will fall head over heels for the subtle flavor that the honey lends to the fruit and to the crust!!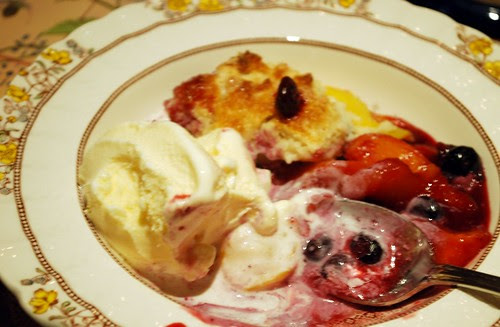 Peach-and-Blueberry Cobbler
3 cups of fresh peaches, peeled and sliced
2 cups fresh blueberries
1 tablespoon honey (local is best!)
1 teaspoon lemon juice
1/3 cup sugar
A pinch of salt
2 cups flour
1/2 cup sugar
2 teaspoons baking powder
1/2 teaspoon salt
1/4 teaspoon cinnamon
4 tablespoons butter, cold
1 cup buttermilk
An extra drizzle of honey
An extra sprinkle of sugar
Preheat your oven to 375 degrees. Grease a deep pie dish or a 9×9 baking dish and set aside.
In a large bowl, combine the peaches, blueberries, honey, lemon juice, sugar, and salt. Set aside to let the juices get to flowin'!
In a medium bowl, whisk together the flour, sugar, baking powder, salt, and cinnamon. Using a pastry blender, cut in the cold butter until a flaky mixture forms. Pour in the buttermilk and stir just until a soft and supple dough forms.
Next, pour the fruit with all their yummy juices into your prepared baking dish. Then dollop the biscuit dough over the top by spoonfuls. Finally, use a spoon to drizzle some extra honey over the top of the dough. Sprinkle lightly with sugar, and pop it into the oven for about 30 minutes, until the crust is a deep golden brown and the fruit is bubbly. Serve hot with vanilla ice cream. Enjoy!