Herb Roasted Chicken Breasts
A healthy dinner for a spring weeknight with fresh herbs from the garden. The marinade makes this chicken extra tender. The blend of fresh herbs makes it irresistible!
Paul Newman's dressing has been a favorite marinade in my family for a long time – it is great on chicken, pork, and especially London broil. The blend of herbs adds an earthy fragrance, and compliments the tender, juicy chicken perfectly.
Herb Roasted Chicken Breasts
2 fresh split chicken breasts (w/ bone and skin)
1 sprig rosemary, leaves removed
3 stems of thyme, leaves removed
1 handful flat Italian parsley
4-5 sage leaves
1/4 cup balsamic vinaigrette (recommended: Newman's Own)
3 tablespoons olive oil
Clean the chicken breasts and place them in a large ziplock bag.
In a blender or small food processor, measure all the rest of the ingredients. Blend on high speed for about one minute, until herbs are chopped fine and liquid is emulsified. Pour the marinade into the bag with the chicken, schmooshing it around until the chicken is completely coated. (And yes, schmooshing is the technical term.) Refrigerate for at least 30 minutes or up to overnight.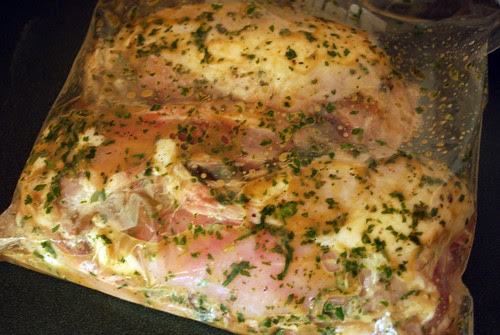 Preheat the oven to 375 degrees. Place the chicken and the marinade in a greased baking dish and cover with foil. Bake for about 1 hour, until a meat thermometer inserted into the meat registers 180 degrees. Serve immediately with your favorite veggies and sides.