Vidalia Victuals Finalist #4: Caramelized Vidalia Onion and Goat Cheese Grits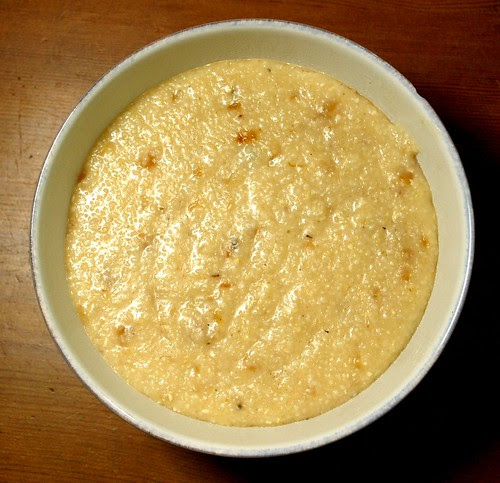 Caramelized Vidalia Onion and Goat Cheese Grits
submitted by Courtney of Cook Like a Champion
2 tablespoons butter
1 large Vidalia onion, halved lengthwise and thinly sliced
3 cups water (or amount specified by grits package directions)
1 cup quick-cooking grits (not instant)
2 ounces fresh goat cheese
Salt and pepper to taste
Heat a medium skillet over medium heat. Add butter and swirl to coat. Add onions. Cover and allow the onions to cook for about 5 minutes. Uncover and continue to cook, stirring occasionally, until the onions reach a deep, golden brown color. This should take about 25 minutes, depending on how thin you slice your onion.
Remove the onion and add water to the skillet, scraping up any brown bits that may have formed. Bring the water to a full boil and gradually whisk in the grits, stirring constantly to prevent any clumps from forming. Cover and reduce heat to medium-low. Cook until grits are thickened, no more than 5 minutes, adding extra water if necessary.
Remove the grits from the heat and stir in the caramelized onion. Crumble in goat cheese and stir to combine. Add salt and pepper to taste. Serve immediately.
Vote using the poll in the right-hand column. Thanks! (Note: Voting is now closed.)