Vidalia Victuals Finalist #1: Vidalia Onions au Gratin
I know what you're thinking, dear readers. You're thinking that I've been a bit slack on the blogging lately. Well, all I can tell you is I've been doing double blog duty – just wait until you see all the wonderful Vidalia Onion creations I've been making for the Vidalia Victuals Contest!!
We enjoyed making each of these Top Ten dishes in the Vidalia Victuals Contest. The hubs and I picked the top ten for their diversity, their authenticity, and their Vidalia-ness. 🙂 Each one was delicious and will definitely be in our yearly rotation. I cannot wait to see which one you, dear readers, vote for as the winner!
Here's how to vote: Look up. No, not literally up, but up the page. And to the right. See the pretty little poll I made? That's where you can vote! So peruse the recipes, try some out this week if you want, and pick your winner by noon on Monday, June 8, 2009. (Note: Voting is now closed.)
I also want to thank everyone who entered a recipe in my little contest. I appreciate you sharing with me! I'm keeping ALL of them because we still have 1 more bag of onions left!
Good luck to the finalists, and I hope all my dear readers enjoy the Vidalias!
Vidalia Onions au Gratin
submitted by tinysbridetobe of Confessions of a Broke Bride
2 tablespoons of butter
5 medium Vidalia onions, quartered and thinly sliced
2 cups (8 ounces) shredded cheddar cheese
1/3 cup packaged biscuit mix (recommended: Bisquick)
1/8 teaspoon pepper
1/2 cup (2 ounces) shredded Cheddar Cheese
1/2 cup flavored bread crumbs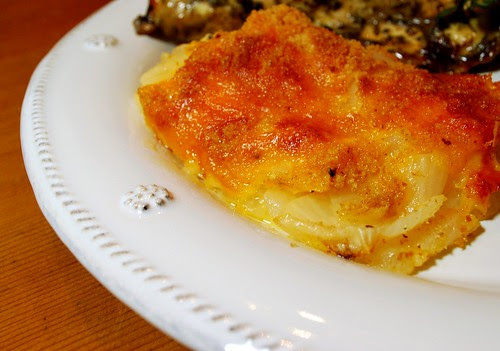 Preheat your oven to 350 degrees. Grease a 1 1/2 quart casserole dish and set aside.
In a large skillet, melt the butter. Add the onions and cook over medium-low heat for about 10-15 minutes, stirring occasionally. The onions should be soft and tender. Remove the onions from the heat and stir in the 2 cups of cheese, the biscuit mix, and the pepper. Transfer this mixture to your prepared casserole dish. Sprinkle with the remaining cheese. Top with the bread crumbs.
Bake, uncovered, for about 30 minutes or until golden brown and bubbly.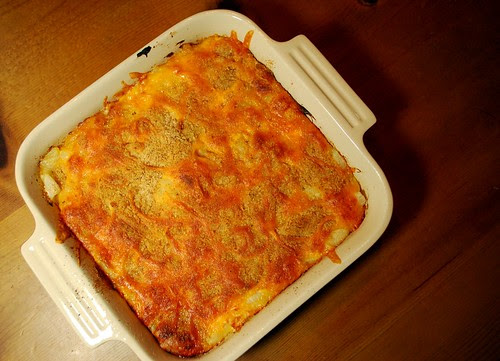 Vote using the poll in the right-hand column. Thanks! (Note: Voting is now closed.)