Tex-Mex Sundaes
When brainstorming for a great dessert to complement our Cinco de Mayo feast, I was reminded of a recipe I'd seen Paula Deen make on the Food Network a few years ago. Here is my version!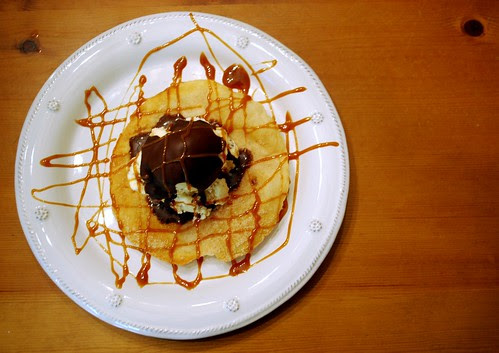 Tex-Mex Sundaes
Adapted from Paula Deen's recipe
Vegetable oil
8-10 flour tortillas
3/4 cup sugar
2 tablespoons cinnamon
Turtle Tracks ice cream
Chocolate Syrup
Caramel Syrup
In a heavy skillet, pour vegetable oil until about 1/2 inch deep. Turn on medium heat.
In a small bowl, combine the sugar and cinnamon. Set aside.
Using tongs, add tortillas one at a time, frying for about 45 seconds per side until puffed and golden brown. Remove the tortilla to paper towels to drain, and sprinkle on both sides, while still hot, with the cinnamon sugar. Repeat until all tortillas are done.
For each sundae, place one tortilla in a shallow bowl or on a plate. Top with ice cream. Then drizzle with chocolate and/or caramel syrup. Serve immediately.