Kale Chips (?)
I started bookmarking recipes using kale about a year ago now. We get tons of it in our weekly CSA baskets, so I wanted to be prepared for this season. Lucky me, kale has grown very popular over the past year or so and is touted as one of the healthiest foods you can eat these days! So it was easier to find some great recipes out there using kale than it had been in the past.
Well, it's a good thing I had done my recipe research because what was in our very first basket of the season but a huge bunch of kale! With my new arsenal of recipes (other than just stewing it with other greens), I went to work.
I have to be honest, when I saw this recipe for the first time, I had my doubts. Kale Chips (?) – seemed a little odd to me. But I decided to give it a try.
Well, the recipe did not disappoint in the least! These were delicious! What do they taste like? They were reminiscent of some really pungent salt and vinegar chips. Nice and crispy with that satisfying crunch, and it really delivers that punch of salt and the tang of sour flavor. The mildly bitter flavor of the greens really brings it all together. The hubs and I both loved these – definitely a great way to satisfy that craving for chips without breaking your diet.
Kale Chips
from Becca of Woman with a Whisk
10-12 kale leaves, washed and dried
1 teaspoon balsamic vinegar
1 teaspoon olive oil
Salt and pepper to taste
Preheat your oven to 400 degrees. Chop your kale leaves into 1-inch pieces, discarding the stems. Combine vinegar, oil, and seasonings in a medium bowl. Add the kale pieces, tossing until completely coated. Arrange the kale on a large baking sheet in a single layer.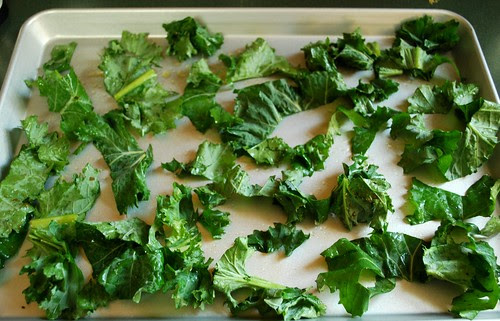 Bake for about 10 minutes, until the kale is crispy and slightly golden.