The Alpha-Bakery: F is for Fudge Brownies
I can still remember the Christmas gift exchange we had in elementary school when I was in Third Grade. We all brought in small, generic gifts. Then we drew the name of a classmate and exchanged gifts with them. And I still have the gift that I got: the Gold Medal Alpha-Bakery Cookbook!
There is a recipe for every letter of the alphabet from Apple Crisp to Zebra Cookies. Well, F is for Fudge Brownies, and my go-to brownie recipe for the past 20 years has evolved from the recipe found in this fun cookbook.
I make these all the time – they are so delicious and turn out perfectly every single time. They are rich, fudgy, and oh-so-satisfying when you need that little chocolate fix! The tops and edges are crusty, crumbly, chewy, and sweet, the insides are gooey, rich, fudgy heaven. Studded with white chocolate chunks and toasted walnut pieces? Oh, yes please! The perfect combination of textures and flavors for the most amazing brownie ever. In my humble opinion. 😀
Click here for the Homemade Vanilla Ice Cream!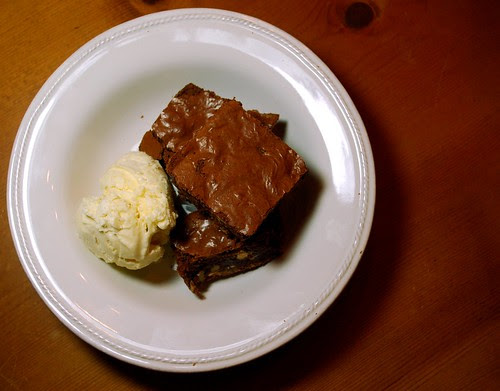 Fudge Brownies
Adapted from the Alpha-Bakery Children's Cookbook
1 12-ounce package semi-sweet chocolate chips (I prefer Tollhouse in this recipe)
1 stick butter
1 1/2 cups sugar
1 2/3 cups flour
1/2 teaspoon salt
1/2 teaspoon baking powder
1 teaspoon vanilla
4 eggs
2 tablespoons milk or half-and-half
1 cup walnuts or pecans, chopped (optional)
1/2 cup white chocolate chips (optional)
Preheat your oven to 350 degrees and grease a 9×13 inch baking pan.
Melt chips and butter in a pot over low heat. Remove from heat, add sugar, flour, salt and baking powder – the dough will be stiff. Then add vanilla and eggs. Add nuts or more chips if desired and then bake in prepared pan for 25-30 minutes.