Vidalia Victuals Finalist #7: Vidalia Onion Soup
Vidalia Onion Soup
Submitted by h2babe of Blissfully Delicious
4 tablespoons of butter
4 large Vidalia onions, sliced
5 cups chicken stock
A pinch of dried thyme
A pinch of dried parsley
Salt and pepper to taste
1 cup freshly grated Parmesan cheese
Mozzarella Cheese
2 tablespoons cognac (optional)
Croutons (optional)
Melt the butter over medium heat in a pot. Add the sliced onions and cook for 30-45 minutes, until soft and golden brown.
Add the chicken stock, and turn the heat to medium high. Bring just to a boil. Turn the heat down to a simmer.
Add herbs, cognac, pepper, and salt. Cook for 15 minutes.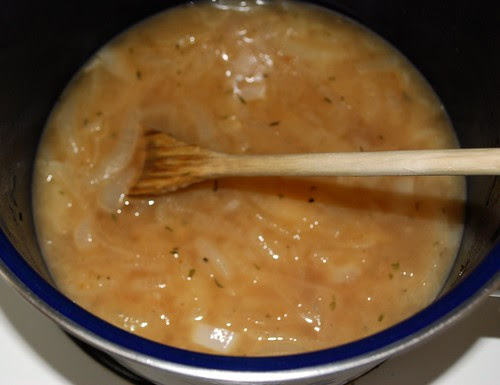 Preheat your oven to 400 degrees. Place croutons and one tablespoon Parmesan cheese on the bottom of each bowl. Add soup, and top with mozzarella cheese. Bake for 10 minutes, or until the cheese melts.
Vote using the poll in the right-hand column. Thanks! (Note: Voting is now closed.)