Dad's Birthday Cake
My dad loves chocolate. My dad loves whipped cream. My dad's birthday cake for years and years has been a classic chocolate cake iced with fresh, unsweetened whipped cream. This year, though, he had a brilliant idea. Why not add a raspberry filling in the middle? Brilliant!!
The whole family raved about this cake. It was such a festive birthday cake, super easy, and a really great combination of raspberry, cream, and fluffy moist chocolate cake!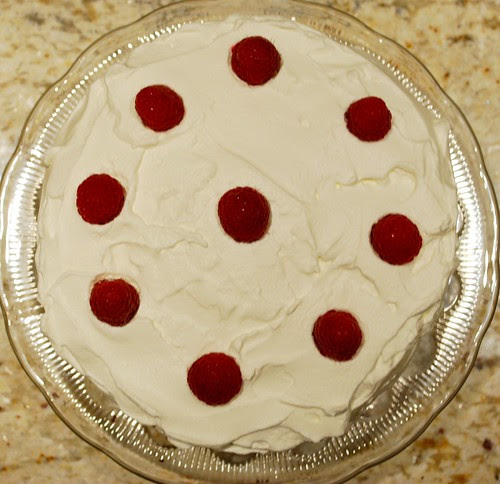 Raspberries 'n' Cream Chocolate Cake
based on my favorite Betty Crocker's Cookbook Chocolate Cake recipe
2 1/4 cups flour
1 2/3 cups sugar
2/3 cup cocoa
1 1/4 teaspoons baking soda
1 teaspoon salt
1/4 teaspoon baking powder
1 1/4 cups water
1/4 cup shortening
2 eggs
1 teaspoon vanilla
1/4 cup seedless raspberry preserves
3 cups whipping cream
8-10 fresh raspberries
Heat oven to 350 degrees and grease 2 round 9″ cake pans.
Measure all ingredients into large mixer bowl. Blend 1/2 minute on low speed, scraping bowl constantly. Beat 3 minutes high speed, scraping bowl occasionally. Pour batter into cupcake tins until 2/3 full. Bake for 23-35 minutes. Cool on racks.
Whip the cream until it reaches a good spreading consistency. Spread the raspberry preserves over the top of the first layer of cake. Gently place the next layer on top. Ice the outside of the cake with the plain whipped cream. Decorate the top of the cake with the fresh berries, and serve immediately. Enjoy!