Care Bears Cloud Cake
One of my very first cookbooks when I was a little girl was the Care Bears Party Cook Book. It had lots of kid-friendly recipes for fun and festive treats. To this day, I still make a dessert that is based on a recipe from this cookbook. It's called Cloud Cake. I have included the original recipe and my simplified version below.
I usually make this light and easy dessert with just strawberries, but for the Fourth of July? Red White and Blue Cloud Cake just seemed right!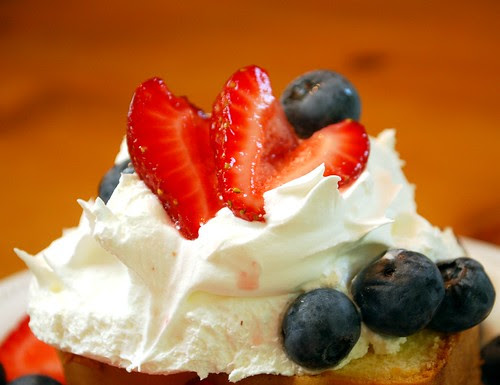 Cloud Cake
from the Care Bears Party Cook Book
1 pound cake
1/2 cup orange juice
1/4 cup raspberry jam or fresh berries with their juice
Frozen whipped topping or fresh whipped cream
Slice your pound cake loaf horizontally and remove the top half. Pour half of the orange juice over the bottom half of the cake. Then spread with raspberry jam or fresh berries and juice. Replace the top of the cake to make a sandwich. Pour the remaining juice over the cake. Top with whipped cream and more berries if desired.
Red, White, and Blue Cloud Cake
2 cups strawberries, hulled and sliced
1/3 cup sugar
2 cups blueberries
1 loaf-sized pound cake
Frozen whipped topping or fresh whipped cream
Combine the strawberries and the sugar in a bowl. Cover and place in the fridge for at least 30 minutes. Stir the strawberries again – they should be nice and juicy. Set aside.
Cut slices of pound cake. Top with the strawberries and juice. Top with some blueberries. Add some whipped topping, and then decorate with extra fruit on the top. Serve immediately – enjoy!!!